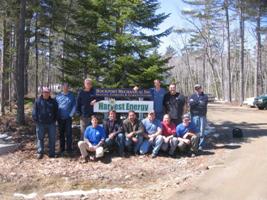 Rockport Mechanical is a forward thinking mechanical subcontractor with extensive experience designing, consulting, and installing a range of highly efficient mechanical systems. Our services include: heating, plumbing, air-conditioning, wood boilers, climate response controls, geo-thermal heat pumps, heat recovery, refrigeration, water treatment, solar heat, 24 hour emergency service, and installation emerging technologies. Our diverse expertise allows our company to design integrated systems tailored to the needs of our clients. Established in Rockport, Maine in 1989 Rockport Mechanical has designed, facilitated and completed a large spectrum of innovative heating and energy projects throughout Mid-Coast Maine.
Our experienced fully licensed and insured staff is the company's most impressive asset. We hold licenses in the state of Maine as masters in plumbing, oil and solid fuels, propane, air-conditioning, and refrigeration. Rockport Mechanical inspires loyalty by committing to our employees' training, benefits and career aspirations. Many of our employees have worked for Rockport Mechanical for over a decade. Their experience and our company's commitment to their prosperity are at the core of this locally owned business.
As energy costs rise and the push to become more environmentally viable as business owners and homeowners increases Rockport Mechanical is committed to adopt and gain expertise in the newest heating, ventilation, and energy technologies available.